CARPET
CARE
Keep your carpet looking great.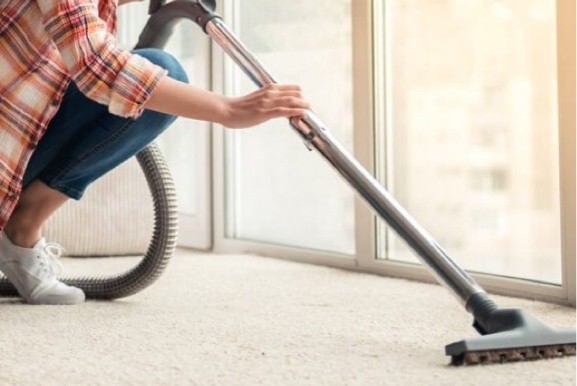 Establishing a routine is essential for keeping your new carpet looking great. Simply vacuum your carpet regularly, how often will depend on how much traffic your room receives. It is also a good idea to have your carpet professionally cleaned once a year to restore its sheen. Placing mats at entryways will also help reduce the amount of dirt tracked into your home.
Unfortunately, spills are inevitable. It is important to act quickly to prevent staining. Simply blot up any liquid with a clean cloth and vacuum any solids. If the spill persists, consult your manufacturer's guide for approved cleaning solutions.
Carpet Care
& Maintenance
It is important to properly care for your new carpet. Regular cleanings are important to the longevity and performance of your carpet because dirt and debris can wear down your carpet fibers, making your floors look worn and dull. With the right care, though, your carpet will last for a long time.
Carpet
Installation
The installation of carpet can be difficult because it requires specialized tools and skills. That's why it's best to trust the experts to make sure your carpet looks and performs great from day one. At Redd Flooring & Design Center we are committed to excellence, and we will work to make sure your floors look beautiful.
Before you invest in flooring, it's important to make sure you are going to love your choice for many years. Browse our room scenes to be inspired with the latest trends ideas for carpet in your home. Then contact us to begin your next project.
We make shopping for new flooring easy with our shop at home option. We will bring samples to you so you can see them in your home, with your lighting, and with your furniture and décor so you can make the best choice possible.
We proudly serve Columbia, SC, as well as Richland County, and Lexington County.